Suite.adcombi.com supports 2 main types of geographical targeting:
1) Hyperlocal (Adform naming: Hyperlocal, DV360 naming: Radius)
2) Postal code (Adform naming: Location, DV360 naming: Regional)
3) Polygon (does not exist on the DSP)
1) Hyperlocal targeting
This means that we target on the DSP with a center point and a radius. This center point is created from the address from the location, which creates a latitude and a longitude. The range is added to each location.
Adform: default in suite.adcombi.com is 5000 meters when not filling in a range. Range can be edited to any radius size for Adform with a minimum of 100 meters.
All countries are supported by this.
2) Postal code targeting
To make postal codes available in suite.adcombi.com, Adcombi needs to have the countries postal codes to be imported and each postal code be geocoded for the center point. This means that we need to have a database with available postal codes and their lat-long center points.
Here is an overview of the available list on 19-07-2022: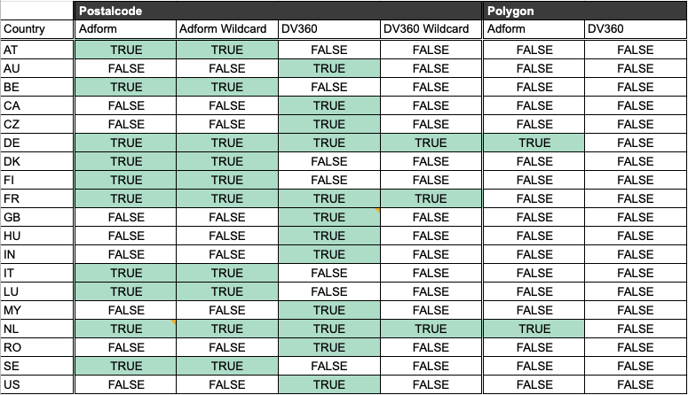 3) Polygon targeting
Polygon targeting is a product of Adcombi that enables you to target a portal code shape in a hyperlocal way. See also the example below. The blue circles are created based on the postal code polygon shapes that we have.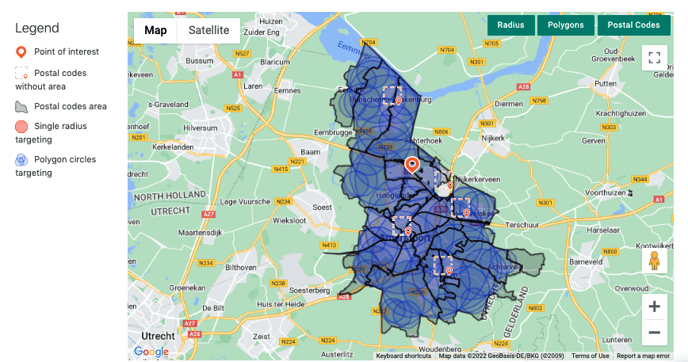 In the table underneath 2) postal code targeting, you will also see the availability for polygon targeting.
If your desired country is not on the list or not available, please contact your Customer Success Manager or send an email to support@adcombi.io